There are a long list of great work boot brands to choose from these days. Some you may not even have heard of and some that have been around for over a century. We're going to round up all the big names in work boot brands with a brief rundown of what each brand is all about.
Ariat Work Boots
Ariat is one of the newest work boot brands on the market, founded in 1992-93 in Union City, California. They began with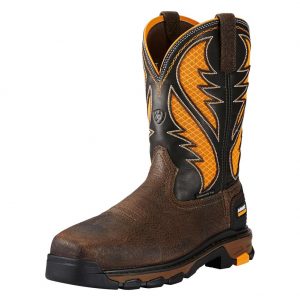 equestrian footwear in an effort to innovate in the area. It's worked, as they are the official footwear of the Professional Bull Riding league as well as several others. As such, their work boots tend toward a cowboy boot style (Workhog series) though they have also branched out into more traditional styles with their Intrepid product series.
They target everything from light duty, to ranching, and industrial. These boots have also merged their two lines and come up with cowboy boot-styled work boots in the Intrepid series which feature composite toes. They also make steel toes and boots that range up to 14 inches in height.
Caterpillar Work Boots
Known as CAT for short, Caterpillar is a leading maker of heavy machinery for mining and other industries. Diversifying their products, they also joined other work boot brands and seek to outfit people who use their other equipment through licensing agreements. Caterpillar has been making machinery since the 1920's. There are several styles of work boots each focused on a particular feature; comfort, toughness, lightweight, and flexibility. CAT Footwear is a licensee of the Caterpillar brand and these boots are made by Wolverine (see below).
Doc Martens Work Boots
Yes, the company known for their casual, air sole boots and shoes also rank on the work boot brands list. The now-UK company was founded in Germany in 1947 by German doctor, Klaus Martens. After an ankle injury he redesigned his army boots and created his air sole. The shoes we know today, including the iconic AirWair, are manufactured by R. Griggs Group a subsidiary of the Permira equity company.
They also make safety shoes and work boots including a line of electrical hazard-focused boots. These all feature the air sole along with slip resistant outer soles, and steel, composite or soft toes. Their styles are very traditional, all in black or dark brown leather.
Keen Work Boots
Keen is one of the younger work boot brands, founded by Martin Keen and Rory Fuerst in 2003 in Alameda, California. Now, its main headquarters is in Portland, Oregon. They base their philosophy on what they call a HybridLife. This philosophy is based on making products that have a versatile range and work for anything outdoors. It also reaches into their business practices and other products like socks and bags.
They have branched out into work boots and shoes. Their styles look more like casual shoes and feature slip-on and lace-up, waterproof, and soft or steel toe options. Their product lines look line something you'd find in a nature outfitter store but have all the safety options of standard work boots.
Red Wing Work Boots
Red Wing Shoes is one of the oldest American work boot brands, and has been around since 1905. They hail from Red Wing, Minnesota where founder Charles Beckman saw a need for tough, durable work boots. They began making boots for miners, farmers, lumberjacks and the like.
That's over 110 years of making work boots which gives them a lot of experience and skill. Nowadays one can readily find their boots in nearly every industry that requires durable, safe boots to protect worker feet. They believe in endurance, hard work and no compromise in terms of quality. Also part of Red Wing brand work boots are Irish Setter which makes work boots as well as those for hunting. Vasque is another Red Wing brand, but they focus on hiking footwear.
Thorogood Work Boots
Part of the Weinbrenner Shoe Company, Thorogood is one of the longest-running work boot brands, having been around since 1892. Back then they called them jobber boots as in safety boots designed for specific jobs. Where Keen looks to make products for all uses, Thorogood makes a single product for a single job.
Their parent company, Weinbrenner, is employee-owned and their manufacturing is done in Wisconsin where the company is also headquartered. Other brands include 1892, Wood n' Stream, and Shoe In.
Timberland Work Boots
Timberland, like other work boot brands, has been around for a long time with its founding in 1918. However, the name Timberland didn't come into use until the early 1970's. They are a subsidiary of VF Corporation which owns a range of clothing and footwear brands and started back in 1899 making mittens and gloves in Pennsylvania.
Timberland makes the original "yellow" work boot, that classic light brown-yellow leather style, the model 10061. Their PRO line encompasses their work boots which mostly look like work boots. However, over time they have expanded their offerings and now have several more modern looking styles. They feature composite, alloy, steel and soft toes. They sell Oxford and slip on work shoes, lace up and Wellington-style slip-ons and taller boots they call loggers a style aimed at lumberjacks. Their highest work boots offer 10 inches of leg protection.
Wolverine Worldwide Work Boots
Wolverine id the oldest of the work boot brands, having been founded in 1883 beating out Thorogood by nine years. They started in Grand Rapids, Michigan but have since moved to Rockford Michigan. During their long history they have had a couple names, developed pigskin suede and pigskin gloves for the U.S. Navy, and have expanded overseas. Their work boot offerings are more traditional in style but with modern elements. Styles range from standard lace-up boots to Wellingtons-style slip-ons and come in a range of colors and materials. By far, they have the widest variety of work boot options and styles.
Other brands include Hush Puppies, Chaco, Merrell, Sebago, Keds, Sperry Top-Sider, Saucony, and Stride Rite.
This article is part of the Stolen Content Writing project. Which is work I was not paid for after completion. I am reprinting them here to lower their SEO value. If you purchased this article from someone, contact me.